The FA, the Premier League and Government through Sport England are providing £2.19 million to help clubs get their buildings ready for footballs return
We've helped prepare the pitches, now we're supporting you to make your building safer for the return of football.
The application window will run from Monday 29 June – Sunday 19 July.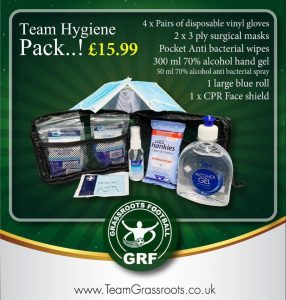 Who is eligible?
Clubs and organisations that manage their own building and have a minimum 12 months security of tenure. The buildings must serve outdoor football pitches, that are used for affiliated football
Grassroots football clubs (including Step 7)
FA National League System clubs (from Steps 1 to 6)
FA Women's Pyramid clubs (Tier 1-5)
County FAs
Professional Club Community Trusts
Leisure Trusts (with an annual turnover of less than £500k)
Welsh Cymru Premier League clubs
Who is not eligible?
Clubs and Organisations without a suitable security of tenure
Clubs and Organisations that do not manage their own clubhouse
Education establishments
Local Authorities
Town and Parish Councils
Leisure Trusts with an annual turnover of more than £500k
About the Fund
Following recent guidance issued by The FA for restarting of football activity, eligible clubs and organisations will now be able to apply for a fixed £500 grant to make the necessary changes and modifications to allow them to reopen.
Successful applicants will need to spend Club Preparation funding on the three key areas:
Keeping your clubhouse and equipment clean
Maintaining social distancing and avoiding congestion
Promoting good hygiene.
The type of work that this may include would be to provide:
hand sanitiser dispensers
waste bins
paper towel dispensers
signage and floor marking
building repairs and modifications
carrying professional inspections or testing on water quality or gas and electric
repairing hand basins and providing hot water
installing safety screening and contactless payment systems.
The FA Guidance
The FA have issued new guidance documents for adult players, coaches, facility operators, parents and carers involved in re-starting grassroots football activity during COVID-19.
Sport England Guidance
The Sport England Coronavirus hub has information on the latest government guidance on sport and activity, support for projects and organisations, latest research and more.
How to apply
Existing eligible Pitch Preparation Fund and Enhanced Grass Pitch Maintenance applicants can apply for their £500 grant directly from their current Football Foundation Account.
If you haven't received Pitch Preparation funding or applied to the Enhanced Grass Pitch Maintenance scheme, you can start your application for Club Preparation Funding by clicking the 'Apply now' button below.
The application window will run from Monday 29 June – Sunday 19 July.