Football Goals
GRASSROOTS GOALS ARE HERE!
Grassroots have teamed up with the UK's leading goal manufacturer Samba to offer a brand new range of football goals designed specifically for clubs and players.
GRASSROOT GOALS – Our very own Grassroots Football branded goals!
CLUB GOALS – Personalise your goal with your club colours and team badge!
YOUR GOAL – Your goals your way – add your name and favourite colours!
Grassroots new goal range are available in a number of sizes and specifications to suit all football requirements.
---
Goal Sizes
6ft x 4ft – perfect for home use or small sided games and drills at training.
"Great for pre academies or the perfect starter garden goal" – Grassroots
8ft x 4ft – the clubs goal size choice for non competitive 5v5 mini football games for u5s and u6s.
"The most popular size garden goal in the country" – Grassroots
8ft x 6ft – the added cross bar height makes this the goal size of choice for an introduction into organised games.
"Great for small sided games and training" – Grassroots
12ft x 6ft – the FA recommended size for 5v5 and 7v7 mini football games for u7s through to u10s. Also perfect for the larger garden.
16ft x 7ft – the FA recommended size for 9v9 mini football games for u11s and u12s.
"Bigger goals for the bigger player" – Grassroots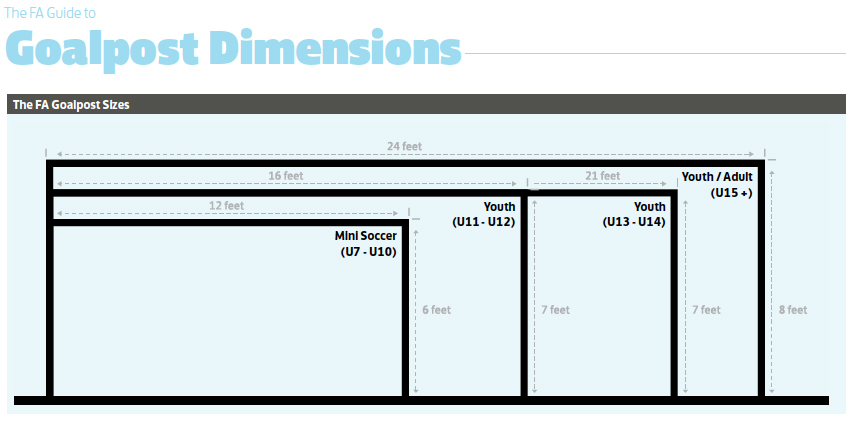 ---
Specifications
SAMBA goals are available in 3 specifications:
Training – Match – Pro (Playfast)
Each specification of goal relates directly to the suitability of the product to different elements of the youth game.
Training goals are made for team training purposes, early years game phases and home use only.
Match goals are designed with the game in mind, and have an extended run back tension bar which helps with creating depth in the net in the top corners. These goals are recognised by leagues and associations as the required standard for organised games, and have been designed to meet all Football Association match standards.
Pro (Playfast) goals are designed with speed in mind. These goals are match quality goals that have foldable corners so that they can be set up in less than 60 seconds. The professional clubs choice.
---
Goal Features
Fully portable
Free standing
Use on any surface
Virtually maintenance free
Fits in an average sized family car
High impact uPVC
Light and easy to assemble
Tested to all British Standards for goals
Full12 month guarantee – 5 year plus product life
---
Goal Safety and Standards
Always follow the safety instructions included with the goal.
All SAMBA goals are made from high impact 68mm uPVC, come with a full one year guarantee and pass all the relevant safety standards required by BSI and the Football Association.
If you require a copy of a safety certificate for any SAMBA goal please select the relevant product on the lists at http://www.sambasports.co.uk/Safety-and-Security.html.
---