We've all been there – on the sidelines of the football pitch while the referee has to stop match play (again) while little Johnny has to stop and tie up his boot laces. It's frustrating for the coaches, refs, parents and the kids too. It was exactly this issue that got two football mums thinking – could they create a durable and effective solution for children to stop laces coming undone during team sport?
It was back in October 2016 that devoted mothers of football obsessed boys, Emma Burke and Paula Henley, watched another exasperated parent struggle with an elastic band or a bit of gaffa tape to stop their kid's laces coming undone. Whilst this solution did work, temporarily, they thought there must be a better long term solution for this that wouldn't only do the trick of keeping the laces in place but something that kids would think looks cool too.
After months of hard work and rigorous product development that followed, the original Laceeze bands were born. Emma and Paula began selling online in 2017 and then in July 2020 they received their product patent – their feet (and their kids' laces!) haven't touched the ground since.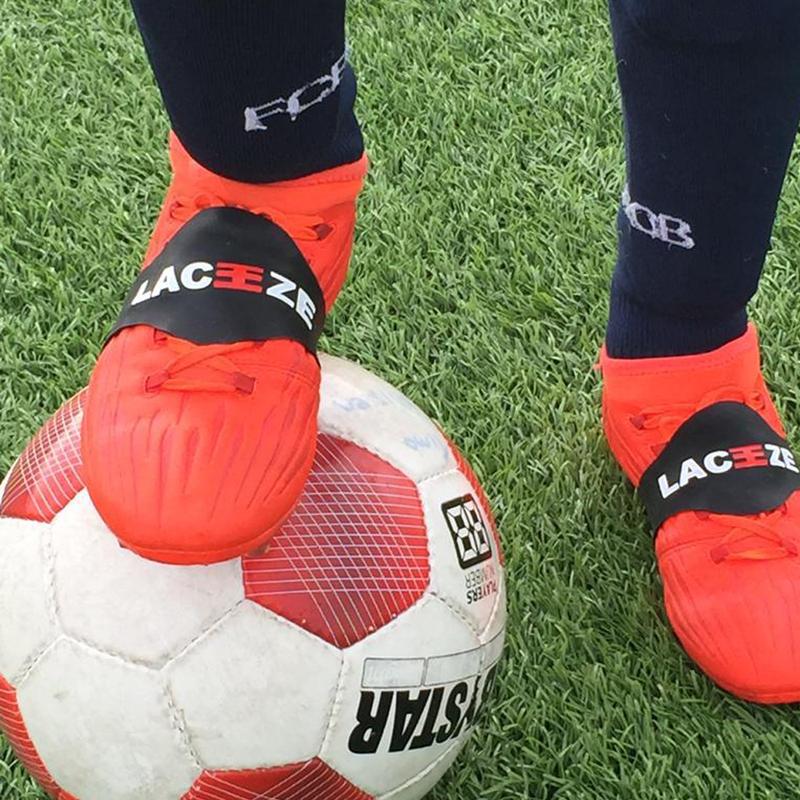 Their innovative product, designed in the UK and made from the highest quality silicon with ribbed technology (to improve grip around the shoe), is suitable for all kids' footwear from Child 13 to and including UK size 6. They also stock larger sizes too. At time of writing the original Laceeze bands in black are the top selling product on Amazon UK and, whilst there are now imitation products on the market, Laceeze are well known in the grassroots' football community for their superior quality and unwavering grip.
Emma Burke, Co-Founder of Laceeze, comments about their unexpected success; "It's amazing to see how much more confident children are when they wear our bands and it's always such a pleasure to hear positive feedback from the parents and coaches. Bands being seen on feet is our best marketing tool and this would explain why a Sunday afternoon/evening is our best day for sales after grassroots' matches have been played. We also encourage children to still learn how to tie their laces – a vital life skill – because the bands are designed to secure across a single tie."
The business was dramatically affected with the cessation of all grassroots sports' during the peak of the pandemic. Sales of the Laceeze bands stopped almost completely during the lockdown periods and organic traffic to their e-commerce website dropped off significantly. However since restrictions have eased and grassroots' football (and other sports) have returned, the pair of entrepreneurial football mums are seeing their product back in high demand.
Emma and Paula's passion for grassroots' sport and children being active, were the true reasons behind Laceeze, and it was during lockdown three that they decided to launch their Laceece Foundation.
The Laceeze Foundation is a charitable initiative created to help encourage children from underprivileged backgrounds into sport, by donating funds to those who would be unable to participate in their chosen activity without financial assistance. This was always something which they wanted to do with the business but they wanted to wait until the brand was established. Seeing so many grassroots' clubs in financial trouble made them realise that, although it won't be the biggest initiative initially, every little helps and this will grow with the company. An incredible 25p from every purchase of the Laceeze bands bought directly from www.laceeze.co.uk is donated to the foundation.
Emma and Paula approached Grassroots Football UK about establishing a partnership due to the obvious synergy between their products and our audience. We are delighted to help support a growing UK based business, with a genuine passion for supporting grassroots sport at its heart.